Applied Kinesiology at
Interurban Chiropractic Clinic Inc.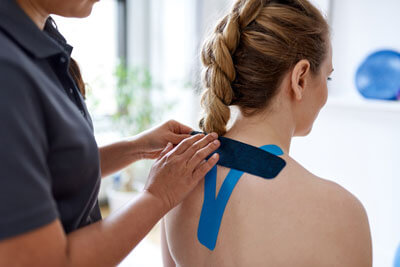 Applied Kinesiology borrows from many different disciplines, using muscle testing as a guide for diagnosis and patient care. By testing the strength of certain muscles, we get a glimpse of how related organs and tissue are functioning.
Simple muscle testing helps us uncover functional issues that may be in your body. It can also direct us to the best options to restore your health.
How it Works
First, we review the history of your health situation. This is followed by a thorough physical examination. Depending on your assessment, you may be asked to go for bloodwork. In this case, we would refer you to get those labs from your primary doctor. Then, we'll analyze your posture, the way you walk, turn and bend. By combining these findings with the strength or weakness of certain muscles, we develop a unique insight into the possible cause(s) of your problem.
With an understanding of your problem, we select from a variety of healing modalities, which may include:
Nutrition supplementation
Meet Lesly Novak
I've been a Kinesiologist and personal trainer for the better part of a decade. My background is in injury rehabilitation, health and fitness and more recently women's health, including pelvic floor, prenatal and postpartum recovery and fitness.
I pursued this career to blend my love of fitness with the desire to help others in whichever direction they need. After being involved in the rehab and fitness world for the past decade, I've been exposed to where some of the limitations lie. I've seen this in unsustainable training, diets and rushed recovery and have fallen victim to it myself. It led me to injuries, burnout, yo-yo dieting and at a loss of how to stay active and healthy all year round. I've come to find balance is key to attaining steady progress that is maintainable for the long term. Part of my balanced lifestyle is time spent travelling, being with friends and family, and tasting as many desserts as I can get my hands on!
My aim is to help clients reach their goals, no matter what stage they're at. That comes through education, proper exercise prescription, and lifestyle management. I want to provide you with the tools and foundation to sustain your health for the long term and gain more independence.
FAQs
First, we'll determine if it will be helpful for you, and then we'll get into a recommended care plan where any finances will be discussed. We'll always be completely transparent with you
No, Applied Kinesiology doesn't hurt. In fact, most people enjoy this type of testing because it helps identify the root cause of any issues going on in your body!
What type of clothing should I wear?
We recommend wearing loose, comfortable, or athletic clothing to your visit so that you're able to move easily and freely as we check things like posture and other movements.
Schedule Your Visit
If you think Applied Kinesiology may be beneficial for you, we'd love to help you find out. Simply contact us today to learn more and book your visit. We look forward to welcoming you to our practice.
CONTACT US
---
Applied Kinesiology New Westminster, Burnaby, Coquitlam BC | (604) 553-1550